DuraStripe Glow
---
DuraStripe is the easiest, fastest and least expensive floor marking system for industrial floors. The durability and vast size of the DuraStripe program makes it the only total floor marking solution available on the market today. If you find that painting aisle striping is too expensive and involves too much downtime, the DuraStripe program is the perfect solution for your facility floors.
DuraStripe Glow


DuraStripe Glow Striping is ideal for communicating evacuation routes or exits to workers during a power outage.

Available in 4" width

Available background colors are Red, White and Yellow

Printing on stripe is Black

DuraStripe Glow is available either with a 1" stripe with a custom message or just a plain 1/4" line

No dry time, cure time, fumes or messy clean up to limit productivity

Backed by a 2-year warranty

Download Spec Sheet
In compliance with these standards: DIN 67510 Class C, ASTM E2072-04, ASTM E2030-07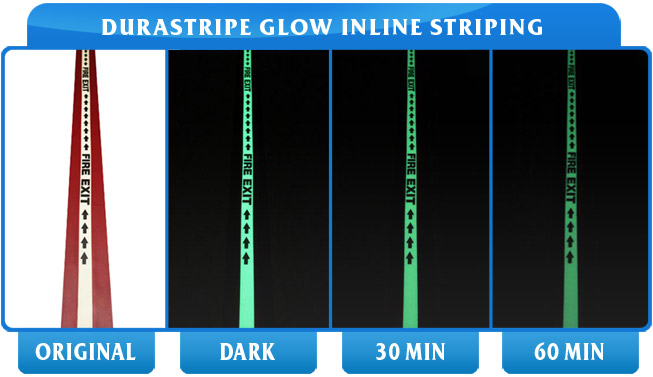 Warranty Guide Lines
DuraStripe products are covered by a solid 2-year warranty. Situations exempt from warranty include:
If DuraStripe product comes up the floor due to floor not being cleaned properly.


If DuraStripe is pulled up by a pallet being dragged or pulled by a forklift / tow motor.